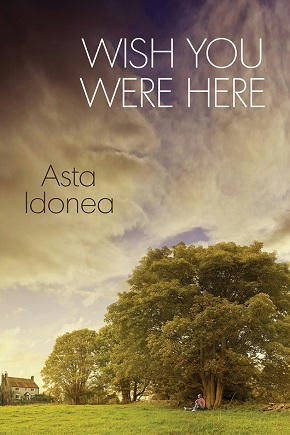 Title: Wish You Were Here
Author: Asta Idonea
Genre: Other Paranormal
Length: Short (59 pages)
Publisher: Dreamspinner Press (February 8, 2017)
Heat Level: Low
Heart Rating: ♥♥♥♥ 4 Hearts
Blurb: The death of Oakley's sister has left his family broken and buried beneath their grief. In an attempt to get out from underneath their pain, they rent an isolated cottage in the Cotswolds. For Oakley, it's an exercise in futility. He doesn't see much hope for things to get back to the way they used to be, and he's bored and restless as he waits out the time until he can return to the city and university. All of that changes when he meets local boy Bobby, and the connection between them is instant. Within a few days, Oakley is ready to walk away from everything to stay with Bobby. However, Bobby has problems of his own, and they might be more than the budding romance can survive. But they might also give Oakley a new perspective on his own situation.
ISBN-13: 978-1-63533-306-0
Product Link: https://www.dreamspinnerpress.com/books/wish-you-were-here-by-asta-idonea-8131-b
Reviewer: Shorty 
Review: Oakley and his family are struggling to deal with the grief they feel after Oakley's sister's death. The family rents a cottage as a way to get away for a while. While at the cottage Oakley meet Bobby who is friendly yet secretive. The two strike up a friendship.
I really liked that despite his mother ignoring Oakley that Oakley found someone to confide in. The real stunner was discovering who Bobby is. I did not expect that, it was a great surprise.
For a short read it was a really great story.