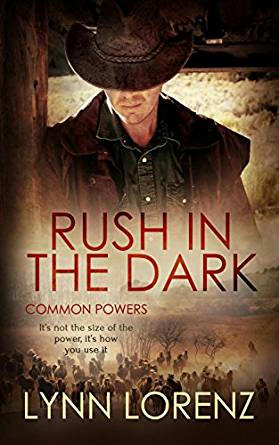 Title: Rush in the Dark (2nd edition)
Series:  Common Powers 02
Author: Lynn Lorenz
Genre: Contemporary, Cowboys and Western, Erotic Romance, Paranormal
Length: Novel (189 pages)
Publisher: Pride Publishing (July 11, 2017)
Heat Level: Moderate
Heart Rating: ♥♥♥♥ 3.75 Hearts
Blurb: Rush is so deep in the closet he can't find the door, but meeting Brian might give him the courage to step out of it.
When Brian and Rush meet in a dark alley, sparks fly. The attraction is fast and hard, but Rush is a rancher with a reputation to uphold and Brian is out and open.
Both men have secrets, including the small powers they each have, and a relationship means they might have to share. It would require Rush coming out of his closet and putting his ranch and his friendships with the people around him at risk.
For Brian, it means putting his heart on the line for a man who's afraid of being himself. He's been down that road before and Brian won't go back in the closet, not even for Rush.
Each time they're together, Rush and Brian set the air around them on fire. As they move closer, both are still holding back, still unsure of each other. One of them will have to take the first step or this thing between them will flounder.
For Rush, it'll take a huge step and a lot of trust to risk his entire life in the small Texas town of Spring Lake. And once he's out, there's no going back.
For Brian, his heart isn't the only thing at risk. If he keeps seeing Rush, he knows he might just lose his life.
Reader Advisory: This book contains scenes of murder and references to rape, abuse, stalking and murder.  
Publisher's Note: This book has previously been released elsewhere. It has been revised and re-edited for re-release with Pride Publishing.
ISBN: 978-1-78651-584-1
Product Link: Pride Publishing | Amazon UK | Amazon US | Amazon DE
Reviewer: Shorty 
Review: Brian is a Pi and while on a stake out meets sexy Rush in alley. Instant sparks fly. There are repeated phone sex conversations which I did not care for. Rush is in the closet and it shows throughout the book. If he was that worried why did he not just stay in it. 
I felt sorry for Brian having feelings for someone who was not sure yet whether or not he could be with another man out in the open. I say tell him when you make up your mind call me then. 
While I expected this book to be better than the first it was not in my opinion. Sammi and Mitchell are in it and I liked that Brian was determined to figure out who Sammi is. I also got really irritated with all the sex scenes and the back and forth of one character making repeated mistakes and the other forgiving him. Seriously? I would have said enough was enough.
It was an o.k. read.