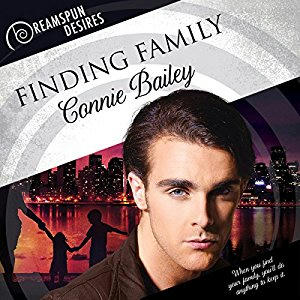 Title: Finding Family
Series:  Dreamspun Desires 11
Author: Connie Bailey
Narrator: John Solo
Genre: Contemporary
Length: 6 hrs, 5 mins
Publisher: Dreamspinner Press (4 Aug 2016)
Heat Level: Moderate
Heart Rating: ♥♥♥♥♥ 5 Hearts
Blurb: When you find your family, you'll do anything to keep it.
When Charles Macquarrie inherits a fortune and an international clothing company, he also inherits three young cousins he desperately needs help raising. By a stroke of luck, he discovers and hires Jonathan Lamb, who spent his life in a children's home due to chronic illness, to be his nanny.
If Jon thought a budding romance with his wealthy boss complicated his life, he has no idea of the hardships awaiting him when he's charged with embezzlement and kidnapping. But even when threatened by accounting discrepancies and mob connections, Jon and Charles won't let go of the family they've built together without a fight.
Product Link: Audible US | Audible UK  
Reviewer: Prime                              
Review: I've read about half of the Dreamspun Desires series, and now I get to hear them to! Finding Family is actually one of the books that I just haven't got around to reading yet. For me these relatively short novellas cover a guilty desire of sweet romance – to me I liken Dreamspun Desires to the MM version of Harlequin romances. I suppose, in that sense, I can say many of the books have a predictable plot but for me that in no way takes away from the story.
I love Connie Bailey – her writing is so easy to follow and everything, in the end, comes together for a wonderful ending. As I said of the Dreamspun Desires series in general, the ending of Finding Family culminates to an incredibly sweet ending, even if it's predictable. Okay, so there is a bit of adventure and a pretty serious corporate trouble – but between all that is two strong male leads and three great kids bursting with personality.
On top of all this enjoyment for is that fact that John Solo narrates this particular story. Seriously, I'm in love with his voice. (It's kind of like the episode of the TV show The IT Crowd where the female lead is in love with the voice of a radio announcer. So not the point, I'm moving on.) I think I'm going to be saying this every time I review a book he narrates – John Solo absolutely nails the characters feelings and in particular for the leads, he really injects a lot of life and personality into the words he is reading off the page.
As for the story itself, everything is there in the blurb. Jonathan Lamb, aka Jon, grew up in a children's home and raised by nuns (how Sound of Music is that?). He's twenty and after being constantly sick as a child and then working at the children's home, it's time for him to get out on his own. To that end he becomes the manny for Charles Macquarrie. Charles is from a multi-millionaire family, but with a very tragic past. At twenty five he has lost his parents, runs the family corporation (despite events he does it well too) and now guardian to three much younger cousins after the death of his uncle and aunty. As I keep saying, it's a recipe for sweetness, bordering on a diabetic coma.
There are what I feel to be a few call backs to The Sound of Music and Mary Poppins, aside from the obviously stated ones. It tends to give Jon an around perfect feel, while it is Charles who is flawed, even though he is a young, rich and hot businessman/millionaire. I think it's a bit of a change from the usual trope. If I must pick at anything, I feel that a lot more could have been made of Charles' drinking, Jon's reaction and the implications that alcohol seems to be a genetic problem in the Macquarrie family.