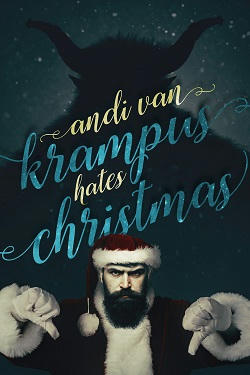 Title: Krampus Hates Christmas
Series: Dreamspinner Press 2016 Advent Calendar Bah Humbug.
Author: Andi Van
Genre: Fantasy, Christmas
Length: Novella (104pgs)
Publisher: Dreamspinner Pres (5th December 2016)
Heat Level: Moderate
Heart Rating: ♥♥♥♥♥ 5 Hearts
Blurb: Karl Kringle hates the modern-day Christmas. He was born to be Krampus, but the Holiday Council refuses to let him help his brother Nick—aka Santa Claus—with the Naughty List until he finds his holiday spirit. To meet that challenge, he's turned human and dumped in a strange apartment.
Lewis Weatherby loves the holidays and always has. Not only do his parents own a pumpkin patch and tree farm, he's also inherited a Christmas-themed shop. All he wants from Santa is the man of his dreams, and the Big Guy might've just delivered. Lewis's new neighbor Karl is gorgeous, sweet, and has a fantastic sense of humor—if his jokes about being Krampus are any indication.
Soon getting home is less important to Karl than what will happen when Lewis inevitably realizes the truth behind his jokes. He's finally starting to understand the real joy of the season—now he just has to figure out how to hold on to it.
ISBN: 978-1-63533-167-7
Product Link: https://www.dreamspinnerpress.com/books/krampus-hates-christmas-by-andi-van-7934-b
Reviewer: Prime
Review: I cannot put into words how much I love this book. Actually, I can, but I need to say the former to get my point across. From memory I think this is the first time I've ever ready anything by Andi Van and I have to say that this book was a fantastic introduction to a new-for-me author. The writing style is so easy to follow, the emotion from the MCs just grabbed me from the get go and the plot is simply wonderful.
If you're into books based on mythology, then this is a great Christmas read for you. We are introduced to the usually maligned Christmas figure of Krampus. He's definitely a grumpy guy, but he's a grumpy guy with a heart of gold and he is angry at the Holidays for a very good reason. Krampus (aka Karl) is pretty pissed because he is never allowed to help his beloved twin brother, Nick (aka Santa), because he lacks Christmas spirit. It is his brother-in-law (Santa's cross dressing husband, Noel) who sends Karl into the mortal realm and makes him appear human (his usual appearance is somewhere between Satyr and run of the mill "beast"). This is where Karl meets Lewis and the real story begins.
Karl and Lewis match each other perfectly. They are truly wonderful characters and I fell in love with them both. I really liked the fact that Lewis was made to be a man in his forties, unlucky in love instead of a twink in his early twenties, which is what usually happens in these kinds of stories. They work well together, though you will have to suspend your disbelief for a while when Karl keeps telling Lewis he's Krampus and Lewis doesn't go running in the opposite direction. The minor characters are absolutely wonderful too: from Nick and Noel, to Lewis' friend Jerry and one of the many minions from the Holiday Council, Rimble. If nothing else it has sparked my interested in this world and really makes me wish for more!

Hi, my name is Andi, and I hate Christmas.
I suppose I should clarify. I hate the Christmas season. Pre-Christmas. The part of the holidays where people are threatening to shank me for wishing them happy holidays instead of a merry Christmas, it takes me an hour to do a grocery shopping trip that would usually take me twenty minutes, and shoppers are literally trampling each other to get the latest Big Thing. And why the hell does Christmas seem to start before Halloween now?
This is the attitude I took with me when I began my journey to make Krampus find his holiday spirit.
For those of you who aren't familiar with him (possibly beyond a really badly done horror movie a few years back), Krampus is the dark to St. Nicholas's light. Traditionally, St. Nick dealt with the good children, while Krampus dealt with the naughty ones. Depending on what region you're talking about, Krampus usually either kidnaps naughty children and takes them to Hell, eats them, or just steals their gifts back. (No naughty children were taken to Hell or eaten in the making of this story. I might be kind of a cranky jerk, but I'm not THAT much of a cranky jerk.) Later traditions compbined the two aspects and you got Santa Claus with his nice and naughty lists.
It will surprise no one that I really enjoy doing things that are…different. I loved the concept of turning Krampus–someone who in no way seems like a sympathetic person–into someone who was actually a really great guy but who hated what Christmas has become. I loved the idea of someone showing him what it's supposed to be about. And it turned out to be insanely fun to do.
Funny thing is? Writing the story kind of made me look forward to Christmas this year, too.
Whatever you may or may not celebrate this time of year, I wish you all a joyous December and a prosperous New Year. May this season surprise you with new, wonderful stories.
(On a side note, the evening of December 5 is Krampusnacht. So if you see a big furry beast with horns and hooves wandering around, don't worry. Karl's probably just late to his own party.)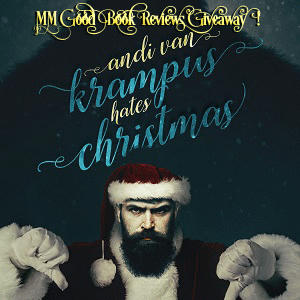 1st prize $100 DSP credits!
2nd prize $50 DSP credits!
3rd prize $25 DSP credits!
4th prize $25 DSP credits!
(Winners will be picked by a dart on 1st January 2017)
Andi Van's question!
What is Marcus (from Starting With the Unexpected) allergic to?
(Just leave a comment with the answer on this post)