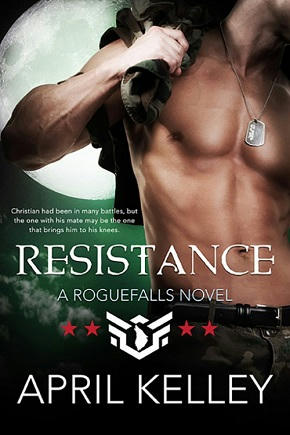 Title: Resistance
Series:  Roguefalls #2
Author: April Kelley
Genre: Paranormal, Fantasy
Publisher: eXtasy Books (June 7, 2017)
Length: Novella (107 Pages)
Heat Level: Low
Heart Rating: ♥♥♥♥♥ 5 Hearts 
Blurb: Christian has never had a serious relationship in his life. He doesn't plan to start with an alpha wolf shifter who thinks he can dictate what Christian is and isn't going to do. Ward Malone might trigger every warning bell Christian has, but he also triggers every sexual fantasy. Christian wouldn't mind giving in to Ward if fun was all he wanted. Unfortunately, Ward is an all-or-nothing kind of guy.
ISBN: 978-1-4874-1044-5
Product Link: http://www.extasybooks.com/resistance/
Reviewer: Lisa
Review: Each book in the Roguefalls collection features a new romantic couple. To enjoy the overall story arc and crossover characters, I would recommend reading the series in sequential order.
There is nothing better than a good paranormal romance with two gorgeous men involved.  They are entertaining and have just the right mix of feelings in them. There is also quite a bit of danger or excitement in it as well.  
Christian is a human in a paranormal army.  His mother was a single mom who had a difficult time making it easy; in fact she made his life pretty hard in a way.  So he looks on other people to be similar in certain things.  Family and mates would leave him behind, so he pushes them away.  That is until he finds himself a mate to an alpha wolf.
Ward only came down to check on his baby brother, not to find his mate.  A stubborn man he never knew before, yet he is the exact same way.  These two fit perfectly, but as one can guess it is going to take, well I am going to let you read the story to figure it out.
Now with this story and series, there really is no action other than with mates.  I am a bit disappointed with that.  I was hoping for something major to happen, but basically it is just a story about two guys who are hot for each other and are stubborn asshat's at the same time.  Now that doesn't mean the story doesn't rock because it does, I was just hoping for a bit more bite to it.  I did enjoy reading it and look forward to the next book.