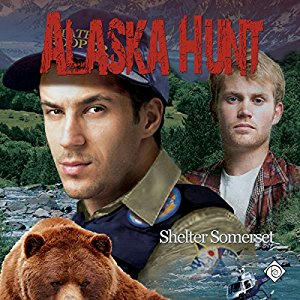 Title: Alaska Hunt
Author: Shelter Somerset
Narrator: John Solo
Genre: Contemporary, Thriller
Length: 9 hrs, 21 mins
Publisher: Dreamspinner Press LLC (15th August 2016)
Heat Level: Low
Heart Rating: ♥♥♥♥ 3.5 Hearts
Blurb: For Alaska Wildlife Trooper Zanebono Fusca, it's just another summer in Anchorage until a slew of inexplicable fatal bear attacks sets the city reeling. As far as Zane is concerned, the timing couldn't be worse. He's besieged with his own demons, coping with personal loss and an identity crisis that clutches him worse than a grizzly's pickaxe-sized fangs. Ten years before, he hoped Alaska would bring him a sense of his manhood. Now the "last frontier" could put him in an early grave.
Zane's role to protect Alaska's teeming wildlife gets even more tangled when handsome 25-year-old Joshua Gaffner arrives seeking the details of his uncle's gruesome death. But Alaskan officials have few answers. Against his better judgment, Zane takes Joshua deep into Anchorage's far-flung back country – populated with eccentric recluses and ego-driven ecologists – in search of the truth. As the bizarre attacks increase, Zane and Josh continue to push for clues to crack the mystery. Finally Zane unravels a shocking discovery that makes the pieces fall into place. The trouble is Josh stands in the perfect position to become the next victim.
Product Link: Audible AU | Audible US | Audible UK
Reviewer: Prime
Review: Alaska Hunt is one of those books that gives me mixed feelings.
This is the first time I've heard or read anything from the author Shelter Somerset and I have to say, I am certainly going to be more inclined into looking into other titles when I come across them. This is a well written book and the plot together weaves together brilliantly. Also, I happen to love narration by John Solo – he has a real knack for giving each character a definite character and make you feel their emotions so easily.
For people looking for a strictly romance type-of-book this probably isn't going to be top of your list. The romance plays subtly in the background though there were times that I thought that the pace of the romance subplot really needed to pick up. Instead this book is mostly a thriller/mystery, which I did find rather enjoyable. At first it had me thinking about like the book series/tv series by James Patterson. The big question was why bears seemed to suddenly attack people who were known in Alaska as bear experts/academics? This scenario works out really well in the plot, I liked it a lot though there was one aspect about it that turned me off (I will explain later).
The plot follows Alaska Wildlife Trooper Zanebono Fusca (aka Zane). He has an adventurous spirit, which led him to move with his now ex-wife and child in Alaska. But tragedy struck and an accident left his ex paralyzed and their son in the custody of the ex's parents. People will probably question why both Zane and his ex let things go the way they did, at times it pissed me off, but in the end suspended my disbelief, especially since there was more resolution to that part of the story in the epilogue.
On top of all that, Zane also happens to bisexual and after meeting the hot nephew of the first bear attack victim, Zane feels his life spiraling out of control. Josh presses buttons that he never expected – he doesn't seem to expect to ever of had a long term relationship with another man. Zane and Josh work well together in a sort of tug of war between finding the truth and doing what is right for Zane's investigation. The sexual tension between them is even more brilliant.
However, there is one big "thing" that made me feel a bit turned off from the book itself. That is because there are two POVs used in this book – not uncommon but what annoyed me was that it was the POV of the attacking bears. I just didn't feel like it fit because to me this is something that signals a shifter-paranormal book, not a contemporary-thriller.