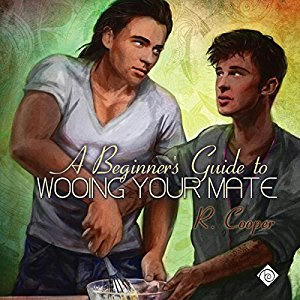 Title: A Beginner's Guide to Wooing Your Mate
Series:  Being(s) in Love 3
Author: R. Cooper
Narrator: Robert Nieman
Genre: Paranormal, Urban Fantasy
Length: 7 hrs, 43 mins
Publisher: Dreamspinner Press
Heat Level: Moderate
Heart Rating: ♥♥♥♥♥ 5 Hearts
Blurb: Zeki Janowitz has returned to his hometown of Wolf's Paw to start his wizarding career. Unfortunately, Wolf's Paw, a werewolf refuge, follows centuries of tradition and shuns human magic and a very human Zeki. He knows he's in for a struggle, but a part of him has always belonged in the mountain town, or rather belonged to Theo Greenleaf. Years away at school haven't lessened Zeki's crush on the quiet werewolf. When town gossip informs him Theo still suffers from his mate's rejection and does not date, it does little to ease Zeki's embarrassing feelings. He decides now's the time to get the man he's always wanted.
Werewolves usually don't recover from losing their mates, and Theo barely pulled through by focusing on his love of baking. It's a daily struggle, and Zeki's return to Wolf's Paw shatters his peace. Theo doesn't know what to think when Zeki attempts to woo him, talking about his wizarding business and settling in town for good. It's like Zeki doesn't have a clue how his words years before left Theo a shell of a werewolf.
Beginners in love, Theo and Zeki must seduce each other with a bit of heavenly baking and magic.
Product Link: Audible US | Audible UK
Reviewer: Prime
Review: If you like paranormal romances – and I know that most of us that do will devour just about anything with wolves and mates as long as there is a sign for a HEA and a lot of loving – then this is one of those impulse reads (audios) that are just wonderful to come across. Yes, it is part of a series, but you needn't have read the previous books, these works as a standalone. However, with hints of the next book in the series I'm seriously looking forward to the next installment.
A Beginner's Guide to Wooing Your Mate is aptly named because the MCs are so inexperienced when it comes to love they really are beginners. Their mating bond kicked in too early in life that they never were able to start anything – what with teenage hormones and emotions in the way. Zeki and Theo are strong characters and that is why life happened the way it did for both of them. Zeki may be a human in a world where shifters are superior, but he is also a wizard and therefore capable of channeling magic, even though that is also seen as second best in a world where men can change into animals.
The only thing that really bugged me about this book is that the pack treat Zeki shitty to begin with when what happened between him and Theo was a misunderstanding between two teenagers still in high school. Yes, Theo has suffered but he is stronger as a result but the main theme in this book is that we always see things differently as children as we do when we're adults.
As for the narration, really well done and on point, I've heard Robert Nieman in the past but I don't think I've ever been as fully on board with his narration as I was during this book.