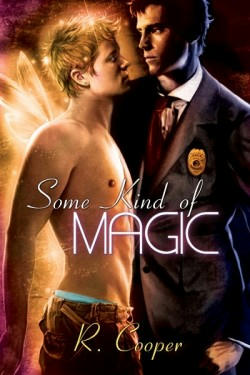 Title: Some Kind of Magic
Series: Being(s) in Love #1
Author: R. Cooper
Genre: Paranormal, Fantasy
Length: Novel (192 Pages)
Publisher: Dreamspinner Press (May 4, 2011)
Heat Level: Low
Heart Rating: ♥♥♥♥ 4 hearts 
Blurb: Being a police detective is hard. Add the complication of being a werewolf subject to human prejudice, and you might say Ray Branigan has his work cut out for him. He's hot on the trail of a killer when he realizes he needs help.
Enter Cal Parker, the beautiful half-fairy Ray's secretly been in love with for years—secretly, because while werewolves mate for life, fairies…don't. Ray needs Cal's expertise, but it isn't easy to concentrate with his mate walking around half-naked trying to publicly seduce him. By the time Ray identifies the killer—and sorts out a few prejudices of his own—it may be too late for Cal.
ISBN: 978-1-61581-969-0
Product Link: https://www.dreamspinnerpress.com/books/some-kind-of-magic-by-r-cooper-3887-b
Reviewer: Lisa
Review:  This is part of a series but can be read as a standalone story.  I realized this after I read the stories out of order so I didn't really miss too much of it.  It is a fascinating story if not a bit too dark for my taste.  I don't much care for fairy tales but the fairy in question is very hot and tempting, especially for a sexy detective.
Ray has been in love with Cal for some time, but Cal is a fairy whereas Ray is a werewolf.  Werewolves mate for life but fairies do not.  So his bond with his mate is driving him crazy but he is determined to get his mate.  Well that and to find out who is behind the killings.  It doesn't make it easy when his mate is trying to always seduce him.  Oh did I mention that the love has always been a secret.
To Ray fairies are very whimsical and flighty, so he fears that Cal will not want to settle down with one mate.  So what does Ray do, he is denying his wolf his mate.  Trying to stay away just a bit.  However it never really works.  Now this story starts off with a very grumpy and moody wolf.  Ray has not been sleeping nor eating because he misses Cal.  To me it his own fault.  Cal was easy to figure out, seeing as he is a fairy.  He is always sucking on candy, always tempting Ray and feels the same way.  
Now there are some issues I found off about this story.  For one Cal is short for Calvin and Calvin is Cal's father.  The secondary character Penelope, well at first I was beginning to get some of the characters mixed up.  It doesn't start off the way I would have hoped it would have.  For one we get a look at what should have been the beginning but it was just a flash back.  So for me the beginning felt like the middle.  I didn't like the racist part of the story whatsoever.  For our main guy to be, brought the story down for me.  However not enough to get a big kick out of it.
This is the first story I have come across where our werewolf is a loner and doesn't automatically jump his mate, well to mate.  He hides it for over two years.  I love how Cal is in the story though.  He does everything to get his mates attention, without knowing the mating part.  Now as for the story itself, the sentences were underdeveloped, weird word's added in and it came off like it was written by a very new author.  The story didn't flow like it should have and the pace was quirky.  The mystery was figured out before the story was even half way there.  It felt like it was just pushed in to make the story longer. 
So where as the story had great potential it failed to deliver.  I did enjoy it but spent more time trying to figure it out.  I know from the fact that I read it out of order, that they do get better.  So I am off to read book two.