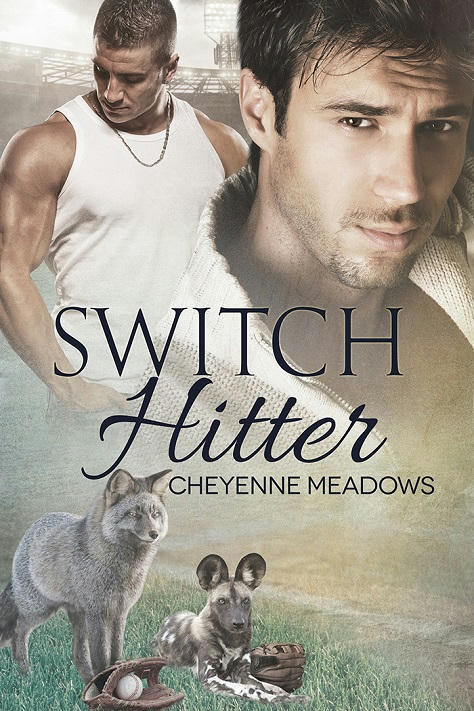 Title: Switch Hitter
Series: Shifter Hardball 03
Author: Cheyenne Meadows
Genre: Paranormal, Sports
Length: Novel (200 pages)
Publisher:  Dreamspinner Press (5th June 2017)
Heat Level: Explicit
Heart Rating: ♥♥♥♥♥ 5 hearts
Blurb: Tucker Wilde's life is in a tailspin. Twenty-four hours ago, he was one of the top second basemen in the all-shifter professional baseball league. Now, he's lost his starting spot to a rookie, been dumped by his girlfriend, and had a night of explosive passion with a man—a teammate at that. He can't get Dixon out of his mind—even though Tucker still believes himself to be straight. With his career in jeopardy, he's unsure where to turn or how to fix the mess.
Dixon Foxx is a baseball prodigy, though a perfectionist father stole any joy he might find in the game. He only sticks with it because it's all he knows—and because of Tucker, the man Dixon's wanted since they met. His dreams come true one night, only to turn into a nightmare the next morning when Tucker blows off their incredible time together as a drunken mistake, never to happen again.
The life of a switch hitter is all about mixing things up. Tucker excels at it. Only this time, the game isn't on the line—his heart is.
ISBN:  978-1-63533-587-3
Product Link: https://www.dreamspinnerpress.com/books/switch-hitter-by-cheyenne-meadows-8542-b
Reviewer: Prime
Review: I read a tonne of books and so I admit, sheepishly, that there are a lot of series which I completely forget about existing until I get flagged that the next book is out. I suppose you can call me a voracious reader, although I probably only write reviews for 10% of what I consume – I really don't have that much time. Shifter Hardball is one of those series, but don't take that to mean that it's an unforgettable series. No, instead just understand two things 1) I got a horrid memory and 2) there clearly isn't enough room for me to remember all the books I read.
With those pleasantries out the way, let me tell you this, once I remembered about the series and what it was – I was instantly desperate to read the next installment. Let's face, there are many of us who will be instantly drawn to this series because 1) there are shifters – sexy alpha shifters, and 2) these sexy shifter play a damn good game of baseball. I admit, I did a quick reread of the first two books, but honestly I don't believe that it is essential to read the previous books but I highly recommend doing so if you haven't. We get a number of quick glimpses at our two previous couples which could potentially be a tad confusing.
Tucker Wilde is one of the stars on his baseball team in his position as the second baseman. However, his game has been off recently and he loses his top position to one of the rookies. To top that off, he also breaks up with his girlfriend, who he really wasn't completely into to be perfectly honest. And this is where his life begins to change.
Dixon Foxx has been micromanaged into a baseball career by his father. He's shy but is a total kick arse when it comes to the sport. The only thing keeping him in the game is his stubbornness, despite the fact he no longer enjoys the game, and his infatuation for Ticker. Dixon has been crushing on Tucker since they first met, just Tucker doesn't realize it. But as I said, things are changing for Tucker, and that means that things are also changing for Dixon.
Tucker and Dixon discover new facets of their evolving relationship, and Dixon discovers just where his passion for baseball now lies (and is not dependent on his love for Tucker). Super sexy. Super sweet. Lots of chemistry ready to explode. Seriously, how can you go wrong with a story about shifters who play baseball?? What I also like about this series is that the shifter aspect is actually secondary to the baseball – as opposed to the other way around, which is probably more common. It makes for a very interesting tale and makes me want more from the series!!