Hi peeps, we have Josephine Myles stopping by today with her new re-release Handle With Care, we have a great excerpt, a brilliant giveaway and Tams' review, so check out the post and click that giveaway link! <3 ~Pixie~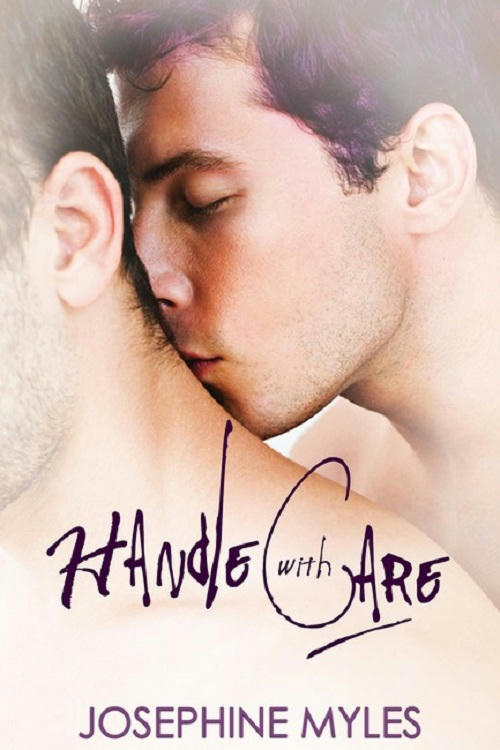 Handle With Care
by
Josephine Myles
Great things come in small packages…
Ben Lethbridge doesn't have many vices left. He lost his youth to raising his little sister to adulthood, then made up for lost time with reckless abandon. Two years of constant partying—and ignoring his diabetes—has left him tied to a home dialysis regimen.
He can work from home, fortunately, but most of life's little luxuries are forbidden. Except for watching porn… and fantasising over Ollie, the gorgeous purple-haired skateboarder who delivers his discreetly packaged DVDs.
Their doorstep banter is the highlight of Ben's solitary day, but his paranoia over his illness-ravaged body prevents him from seeing their flirting for what it really is. He knows Ollie is far too young for him anyway, but he figures there's no harm in sprucing himself up a bit.
Then one day, a package accidentally splits open, revealing Ben's dirty little secret. But instead of Ollie being repelled they make an unexpected connection that has Ben wondering if he's been reading the situation wrong all this time. The only way to find out if they have a chance at love is to risk showing Ollie every last scar. And that could take more courage than Ben owns.
Warning: Contains superhero porn comics and a pint-sized, accident-prone delivery guy with colour-changing hair. Readers may experience coffee cravings, an unexpected liking for bad mullets, and the urge to wrap Ollie up and take him home.