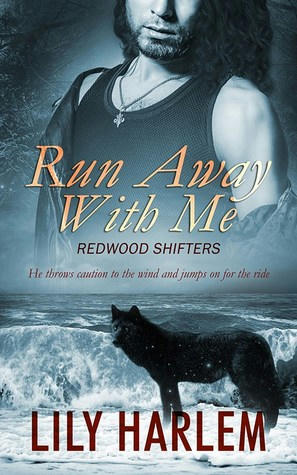 Title: Run Away With Me
Series: Redwood Shifters 01
Author: Lily Harlem
Genre: Gay Erotic Romance, Paranormal
Publisher: Pride Publishing (May 30, 2017)
Length: Short Story (66 Pages)
Heat Level: Explicit
Heart Rating: ♥♥♥ 2 ½ Hearts 
Blurb: When Jude is offered a lift to anywhere on the back of a handsome stranger's Harley, he throws caution to the wind and jumps on for the ride.
Jude has a boring office job in a sunny but deadly dull Californian town. The highlight of his day is sitting home alone with pizza and beer. So naturally, when Neo wants to take off into the sunset, with Jude in tow, he doesn't argue.
Neo makes up his own rules. Deciding quickly that Jude is the mate for him, he breaks into a beautiful beachside home pretending it's his in order to impress the sexy man he's picked up. He's hoping things are going to get hot and sweaty between them real quick.
But the cops are onto them, and as Neo makes a run for it, Jude is hauled off to the police station. It's not looking good, what started out so promising has now left a bitter taste in Jude's mouth.
Will Neo come back for him? And if so can he explain why whenever the huge black dog is around, he's not? And can he really throw his life into the air and see where it lands? These are all questions that Jude's mind, body and heart need to know the answer to.   
ISBN: 978-1-78651-564-3
Product Link: https://www.pride-publishing.com/book/run-away-with-me
Reviewer:  Lisa
Review: Jude has been dreaming of a different life.  Taking a walk on the wild side, when a sexy man on a motorcycle leads him into a bit of excitement.  When Neo wants them to leave town, well you can guess Jude's answer.  It would seem Jude is Neo's mate.
Well this is the first book by this author I have read and I am not impressed.  There was more sex then actual story to it.  It is a very quick little story but the only difference in this one is Neo is a dog shifter.  Other than the cops there is no real excitement or danger going on.  It is just basically two guys going at it and a bit of a thrill on the side. 
I am sorry but this book definitely isn't doing it for me.  It had potential but it failed right from the start.