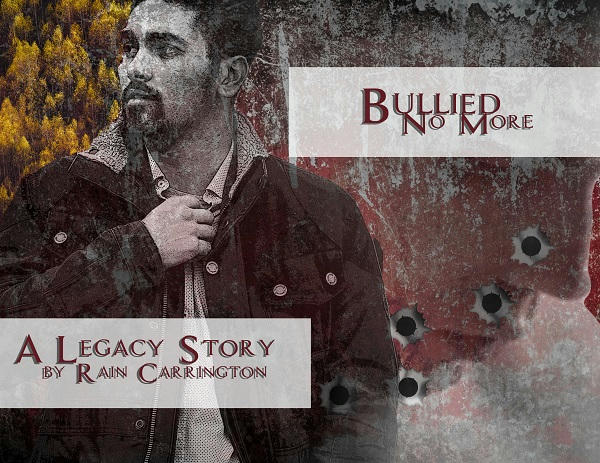 Hi guys! We have Rain Carrington Popping in today with her new release Bullied No More, We have a great excerpt and a brilliant giveaway so check out the post and enter the giveaway! ❤️ ~Pixie~
Bullied No More
by
Rain Carrington
Finding peace at last, Javier Duran thought he'd hung up his guns and camo from his life as a mercenary to live in a town surrounded by beautiful mountains. Taking jobs that required him to be out of town periodically was perfect for him, except this time, when someone broke into his sanctuary.
Daniel Norman didn't have an easy life. Abused by his brother and ignored by his father, he only existed. Learning how to get around security systems was the only skill he had that his family gave him credit for, so he did it well.
The house on the edge of town, the mysterious man who owned it, they were different for Daniel. Intrigued, he did his job and got their crew into the house but regretted it, as each room he entered told him a little more about the man who lived there.
When Javier returned home during the break in, everything changed for them both. Attempting to save Javier, Daniel commits murder, and Javier is determined to save him. To a cabin he'd bought the same time he'd bought his beloved house, he whisked Daniel, getting to know the quiet young man and finding more than he bargained for.
The age difference was Javi's main concern, knowing his feelings for Daniel could only grow. Discarding him like others had, however, could break him. Can Javi chance his own heart to save the heart of the young man, or will his old life creep back in and destroy them both?