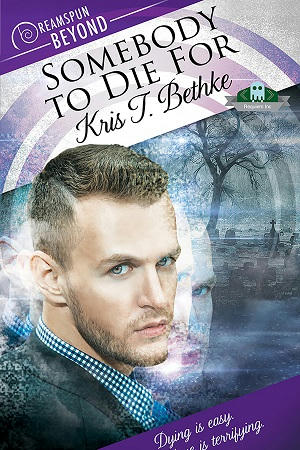 Title: Somebody to Die For
Series: Dreamspun Beyond 27 / Requiem Inc. 03
Author: Kris Bethke
Genre: Paranormal
Length: Novel (218 pages)
Publisher: Dreamspinner Press (4th September 2018)
Heat Level: Moderate
Heart Rating: 💖💖💖💖 4 Hearts
Blurb: Dying is easy. New love is terrifying.
Avery Wagner quit ghostwalking when he lost his beloved anchor to cancer. Now teaching others who have the ability, he's beginning to live again—but he's not looking for another lover, not now, maybe not ever.
But then he meets Jameson… younger, talented, dedicated, almost perfect, even though his mouth sometimes opens ahead of his brain. And Jameson wants Avery desperately, though he'll settle for friendship if he can't have more.
When an emergency demands they work together in the field, Avery discovers just how perfect Jameson is. But he had a perfect love once before, and he's scared to even consider that he might have a chance at another. Can he trust Jameson with his newly healing heart?
ISBN: 978-1-64080-537-8
Product Link: Dreamspinner | Amazon US | Amazon UK
Reviewer: Prime
Review: Somebody to Die For is the third book in Kris Bethke's Requiem series. I think it's fair to say that Kris Bethke is a new author that I'd love to read again after going reading three of her novel's one after the other. I loved the first book and adored the second book. While I would have to say that the second book in the series, Lost Souls Found, was my favorite book, I also loved Somebody to Die For.
The concept of the series is different to what I've read in the past. There is a special group of people that work for a company called Requiem Inc. It's not an ordinary company in that the people are charged solely to ensure that spirits are at peace and do not become malicious entities. There are people, Ghostwalkers, with a special gene which means they can die and come back to life, their body heals with some Wolverine type accelerated healing and as a result they can live up to a couple centuries. Then there are another group of people which have a gene which makes them, essentially, the perfect care giver, called anchors. Each ghostwalker needs to be paired with an anchor so that they can go through the trauma of being killed, helping dead spirits who are usually traumatized, coming back to life, living and doing it all over again.
We met Avery and Jameson in book two, through the eyes of Michael King, the boss of this branch of Requim. Avery Wagner is a broken man. He lost his anchor, and the love of his life, to cancer and ever since Avery has refused to ghostwalk. His anchor went into the light when he died, and no doubt wanted Avery to be happy, no matter what direction his life took. However, Avery is caught in the past and with his baggage. So much so that he fights the prospect of new love and new life.
Between training and a desperate situation requiring all ghostwalkers on deck, Avery has to start the process of facing his demons, so to speak. After being convinced to help with a new ghostwalker and anchor training program, Avery finds himself drawn to a young ghostwalker, Jameson. Jameson is young and idealistic, but he is also strong in every sense of the word. He knows that in order to get his happily ever after, he has to get Avery to realize that he is allowed to open his heart to love again. And somehow, in between all that, they have to contend with a potentially dangerous situation in the spirit realm.
Fans of the previous books will like this one, although I don't think it's absolutely essential to understand the background of the world Bethke has created. This is great for anyone who loves paranormal but open to something a little different. At the heart of it all this is a wonderful second chance romance that has a healthy dose of paranormal happenings in the background.