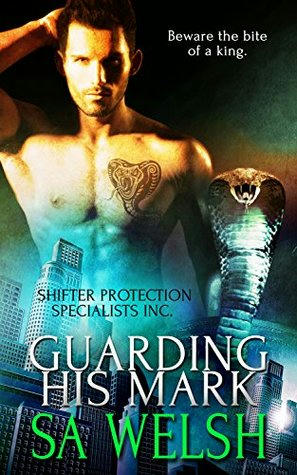 Title: Guarding His Mark
Series: Shifter Protection Specialists Inc. #3
Author: S.A. Welsh
Genre: Paranormal
Length: Novel (203 Pages)
Publisher: Pride Publishing (September 13, 2016)
Heat Level: Low
Heart Rating: ♥♥♥♥♥ 5 Hearts
Blurb: Beware the bite of a king.
Khan is a king cobra shifter with a serious mistrust of anyone outside his brothers at Shifter Protection Specialists, Inc. and has good reason for it after he was subjected to the whims and experiments of a mad scientist as a teenager. Since becoming part of a real family, he's thrived in his job as a close-protection specialist.
One night he meets a pretty human who interests him on a level he hasn't experienced before, but old fears and revelations force him to put distance between them. Unable to stay away, Khan creates the persona of a courier to deliver the venom Casey needs to see exactly what the human will do.
Dr. Casey Jameson is working toward a deadline. He needs snake shifter venom to continue his research and create a cure to save someone he loves. When he goes in search of a donor, he meets Khan, but he's confronted with the irresistible, roughness of Khan and he ends up taking the shifter home for the night. However, when Khan finds out who and what he is, Khan leaves him high and dry.
The appearance of Roan, a courier, in his life is perfect timing, but Casey may get more than he bargains for and will soon have to think carefully about who he can trust if he wants to live long enough to complete his work.
When an old lover and boss becomes a real threat to Casey's safety, Khan must come clean and keep Casey safe before they both lose something precious. 
ISBN: 978-1-78651-430-1
Product Link: https://www.pride-publishing.com/book/guarding-his-mark
Reviewer: Lisa
Review:  Each book in the Shifter Protection Specialists Inc. collection features a different romantic couple. To enjoy the overall story arc and crossover characters, I would recommend reading the series in sequential order.  
I am fascinated with the worlds and characters that this author has written about.  There are very few good romance books that involve such different types of shifters, that when one comes out I just have to read it.  In this one our hero is one nice sexy king cobra shifter, who has a bit of a chip on his shoulder.  
I love how there is a serious tone to it, but that it is equally matched with humor. I can't stand a book that has no humor in it; I would rather be laughing then just sitting there.  There is always lust, love, hot sex and a good amount of danger placed in these stories that keeps my attention as well. 
Casey and Khan had met at a club some time ago, but the moment Casey mentioned scientist and experiments Khan had ran.  He hadn't listened to why Casey was interested in snake shifter venom.  However over time, he wanted to give him a chance but he used a different name.  So when time came by for him to reveal himself, well Casey did what any good human would do.  Now it is going to take time to trust each other once more, but first they have to get rid of his creepy ex-boyfriend and the danger that is coming for them all.
Khan had his family try to kill him when it showed how powerful a snake he was, then sold to scientist so he was not going to be placed into that position again.  The problem was Casey just might be his mate.  Then when he finds out why it is so important, well you have to read the book to find out. 
To me there is nothing better than a good romance, but when it is a paranormal then it hits higher marks to me. I love them especially when there are some gorgeous men in some kinky situations. I can honestly tell you that this is going to be one of those types of series that you can't put down and have to read more than once. It is the perfect story for me and gave me all that I needed. I love the way all the feelings they felt was involved in this story.
I had a blast reading it and I can't wait to read the next story.