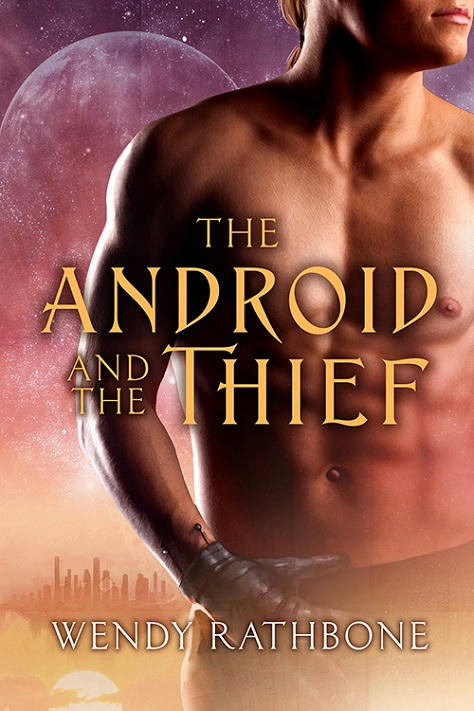 Title: The Android and the Thief
Author: Wendy Rathbone
Genre: Science Fiction
Length: Novel (294 pages)
Publisher: Dreamspinner Press (April 3, 2017)
Heat Level: Moderate
Heart Rating: ♥♥♥♥♥ 4 ½ Hearts
Blurb: Will love set them free—or seal their fate?
In the sixty-seventh century, Trev, a master thief and computer hacker, and Khim, a vat-grown human android, reluctantly share a cell in a floating space prison called Steering Star. Trev is there as part of an arrangement that might finally free him from his father's control. Khim, formerly a combat android, snaps when he is sold into the pleasure trade and murders one of the men who sexually assaults him. At first they are at odds, but despite secrets and their dark pasts, they form a pact—first to survive the prison, and then to escape it.
But independence remains elusive, and falling in love comes with its own challenges. Trev's father, Dante, a powerful underworld figure with sweeping influence throughout the galaxy, maintains control over their lives that seems stronger than any prison security system, and he seeks to keep them apart. Trev and Khim must plan another, more complex escape, and this time make sure they are well beyond the law as well as Dante's reach.
ISBN-13: 978-1-63533-408-1
Product Link: https://www.dreamspinnerpress.com/books/the-android-and-the-thief-by-wendy-rathbone-8344-b
Reviewer: Shorty 
Review: I enjoyed this story of androids being produced with no metal and all outward appearances were human. Khim is such an android. He was produced to go into the military, until an injury causes him to be reprogrammed and put into the pleasure slave category. 
Trav is Dante's adopted son. He is supposed to do whatever everyone else does but takes his own path. Upon meeting Khim his life changes. They both work together to figure a way out of the situation they are both in. 
Intriguing and interesting this story keeps the reader's attention with action, mystery and romance. I will warn the readers that there is a group rape scene in the book though.  I loved the plot, characters and setting of the book.
Great read.