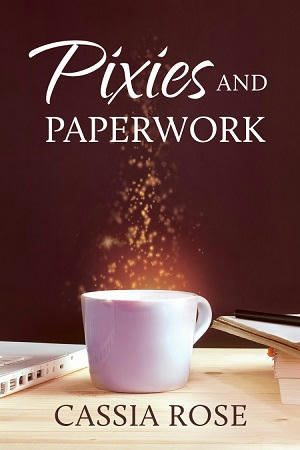 Title:  Pixies and Paperwork
Series: 2016 Advent Calendar- Bah Humbug
Author: Cassia Rose
Genre: Fantasy, Holiday 
Length: Short Story (49 Pages)
Publisher: Dreamspinner Press (December 1, 2016)
Heat Level: Nil – Low
Heart Rating: ♥♥♥ 3 Hearts
Blurb: Micheal Donovan's family has kept the peace between mortal and magical realms for generations, but Micheal skipped out on glory for other plans. He finished school, got a nine-to-five, and tried to fit in. When his cousin meets an unfortunate end on All Hallows, Micheal abruptly inherits the position of Riftkeeper, along with all the prestige and responsibility he didn't want. Estranged from his family, Micheal never learned the details of the job. All the grumpy, ancestral spirit now possessing his goldfish can tell him is that a mistake could be catastrophic. Micheal isn't feeling the holiday cheer, and coworkers' attempts to encourage him only add to a headache of magical proportions. To make matters worse, Ryan Nickles, Micheal's colleague and cubicle neighbor, has assembled enough Christmas decorations to attract more pixies than Micheal can hide.
When Micheal's attempts to find the Winter Court on the week of the solstice leave him with nothing but a bad cold, he fears he'll be the first Riftkeeper to break ancient contracts. He's too stressed to handle Ryan's attempts to get him into the holiday spirit, but Ryan might know more about the magic of the season than Micheal realizes.
ISBN: 978-1-63533-171-4
Product Link: https://www.dreamspinnerpress.com/books/pixies-and-paperwork-by-cassia-rose-7955-b
Reviewer: Lisa
Review: Micheal is the new Riftkeeper and has been having quite a bit of trouble with it.  For one he has no help, but then he finds out that the one working beside him for the last two years is the one who could help.
Now this is a short story that was fun to read, however it was also very confusing.  I didn't understand most of the story and it ended up giving me a blasted headache.  However I did get the gist of it as one would say.  Other than some party, it doesn't really have all that of a Christmas theme to it.  So I am afraid that this one was just not for me, mostly because I didn't have a clue what was going on.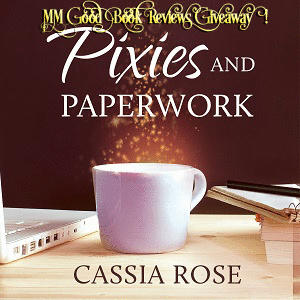 1st prize $100 DSP credits!
2nd prize $50 DSP credits!
3rd prize $25 DSP credits!
4th prize $25 DSP credits!
Cassia Rose's Riddle!
 My story had a number of riddles in it, since it was about Faerie Riddles I've shared one of my custom riddles here…can you work out the answer?
Some say the first of us is lucky, then claim we have no number.
We offer guidance when sun is gone, yet hide ourselves from thunder.
In our light we hold tales, and by us men set their sails.
But their hands may never hold us, only eyes in wonder.

(Just leave a comment with the answer on this post)
(Winners will be picked by a dart on 1st January 2017)