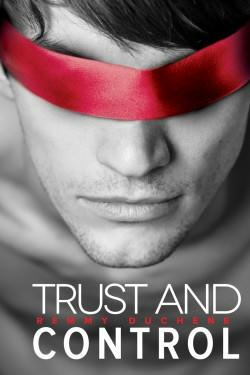 Title: Trust and Control
Author: Remmy Duchene
Genre: Contemporary
Length: Novel (162pgs)
Publisher: Dreamspinner Press (14th November 2016)
Heat Level: Moderate
Heart Rating: ♥♥♥ 3 Hearts
Blurb: Wealthy real estate mogul Christophe Lafavre has everything—except any love life to speak of. Though he has a brilliant head for business, when it comes to relationships, he's often left fumbling in the dark.
To put a stop to the whispers about his pitiful social life, Christophe takes a suggestion from a friend and goes to a club on masquerade night. There, he meets an elusive hottie who calls himself Raj, and though Christophe cannot see Raj's face, there's definitely a connection. Over the phone and online, Christophe and Raj get to know each other. Their conversation is easy and arousing. It's hard for Christophe to believe the strength of the feelings he's developing toward a man who is still essentially a stranger, but he can't get Raj out of his head. They eventually give in to their physical longing—but still Raj refuses to show his face or divulge his identity.
When it comes, the revelation will rock Christophe's world and redefine more than one relationship in his life.
First Edition published as If I was Your Man by Breathless Press, 2013.
ISBN: 978-1-63477-911-1
Product Link: https://www.dreamspinnerpress.com/books/trust-and-control-by-remmy-duchene-7790-b
Reviewer: Veronica
Review: I absolutely love Friends to Lovers stories, and after reading the excerpt for this story, I was so hyped up to read this, but the first half of the book is all hot and steamy, and I was breezing through this, until it started to drag on for me. Christophe and his business partner, have been best friends for years, they also co-own a thriving company together. The idea behind the Masquerade piece injected into the story is brilliant. Christophe has everything that he can want in life, except for a significant other. His past lovers are nothing to speak about, because they don't stay around long enough.
A friend told Christophe that the club they frequent will have a Masquerade night and that he should check it out. He's free that night, and he goes. There he meets Raj, but Christophe thinks that he's egotistical. They dance together, and then Christophe reluctantly leaves the bar, but not before they exchange information on how to contact each other. Couple days past and they started messaging each other. Now Raj knows everything there is about Christophe and he wants him, but Chris is the cautious type and doesn't want to be hurt again by another man. Further into the story, the sex scene in the restaurant is so steamy and hot, but the moment froze over fast when Raj reveals himself to Christophe and that he's in love with him. Christophe freaks out now, and says some pretty hateful things to Raj and then runs out of the restaurant.
At the office, things are very strained with Christophe and Raj/Jas. Chris doesn't want to see or talk to Jas, so he hides out in his office, Jas decides that he can no longer work at the company with the way that Chris feels about him with the deception. He works from at home, and then he leaves the country without letting anyone knowing. So after talking with an employee and family members, Chris decides that he can't live without Jas, and the way that he makes his body sing in bed. So he goes looking for Jas to beg for forgiveness. It then drags out for me, but hopefully for Christophe, he can convince Jas to give him another chance.