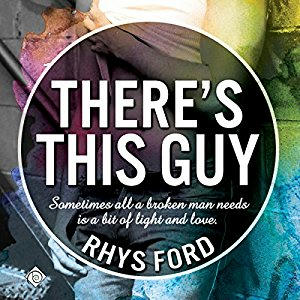 Title: There's This Guy
Author: Rhys Ford
Genre: Contemporary
Narrator: Greg Tremblay
Length: 7 hrs 30 min
Publisher: Dreamspinner Press (10th April 2017)
Heat Level: Moderate – Explicit
Heart Rating: ♥♥♥♥♥ 5 Hearts
Narration: ♥♥♥♥♥ 5 Hearts
Blurb: How do you save a drowning man when that drowning man is you?
Jake Moore's world fits too tightly around him. Every penny he makes as a welder goes to care for his dying father, an abusive, controlling man who's the only family Jake has left. Because of a promise to his dead mother, Jake resists his desire for other men, but it leaves him consumed by darkness.
It takes all of Dallas Yates's imagination to see the possibilities in the fatigued art deco building on WeHo's outskirts, but what seals the deal is a shy smile from the handsome metal worker across the street. Their friendship deepens while Dallas peels back the hardened layers strangling Jake's soul. It's easy to love the sweet, artistic man hidden behind Jake's shattered exterior, but Dallas knows Jake needs to first learn to love himself.
When Jake's world crumbles, he reaches for Dallas, the man he's learned to lean on. It's only a matter of time before he's left to drift in a life he never wanted to lead and while he wants more, Jake's past haunts him, making him doubt he's worth the love Dallas is so desperate to give him.
Product Link: Audible US | Audible UK  
Reviewer: Gigi
Review: This heart-string tugging story starts out with the cold, hard violence I've come to expect form a Rhys Ford story, and let's face it, I like the gritty, painful crime she writes…because she tempers it with such strong passion and love! The opening is gut wrenching and makes me cringe even now…. Fair warning, this story contains subjects of physical and emotional abuse, and suicide. 
Each character was interesting, however I feel like I've been dropped into the middle of a series. There are strong dynamics and a ton of history between Dallas and Celeste, and I feel like I need that back story first. I want to know how Dallas got to this point in life. How is he independently wealthy? Why is he opening this club, what exactly is Bombshells & Babes? There was a segment that went into his past relationship and why it's so important when considering Dallas and Jake's future….but again, it feels like I'm missing an entire novel. It's like Star Wars…I think there may be a prequel soon. 
While the story is passionate, and the topic bone chilling and dark, the layering of descriptive words can get a bit overwhelming. The love scenes, before Dallas and Jake get to full penetration, the brief touches, the kisses, the chemistry as they build is great! It was hard for me to figure out how all the elements of the story were tied together. There's not a lot of mystery here, more of a story about one overly optimistic ray of sunshine helping a beaten down, abused, disturbed creative genius find reason to keep on ticking. Love and hate, tenderness and violence; there's not a lot of in between here. 
If you enjoy those things, like I do, you'll enjoy this story. Tremblay's narration brings this story to life. I don't think I'd enjoy this book as much just reading the text. Greg brings softness, passion, and drama, blunts some of the rough edges and heats up the passionate scenes.