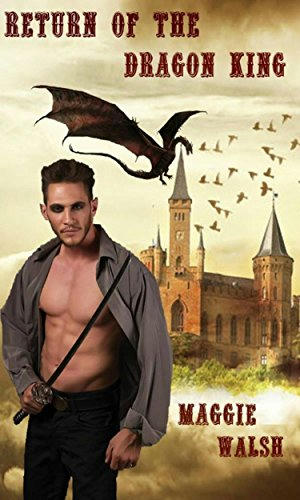 Title: Return Of The Dragon King
Series:  Dragon Realm 01
Author: Maggie Walsh
Genre: Action & Adventure, Paranormal
Length: Novella (104pgs)
Publisher: Maggie Walsh (November 12, 2016)
Heat Level: Moderate
Heart Rating: ♥♥♥♥♥ 5 Hearts
Blurb: Devon has spent the last few years of his life just trying to survive his step-brother Mick. Being used as a trick to keep Mick in beer and drugs is not how he imagined his life would be. The only thing he looks forward to are his dreams of Zion.
Zion has searched for his true mate for years. Finally finding him, and saving him from the hell his life has been, Zion and Devon should be happier than ever, but learning that they are to rule the Dragon Realm together is almost more than Devon can handle. Zion must use all his patience and love to prove to Devon that they are meant to be.
However, not everyone is happy to have the prophecy fulfilled. There are those that will do anything to prevent Zion and Devon's mating. Will they succeed? Or will true love finally conquer all?
ISBN: B01N91EXPC
Product Link: https://www.amazon.com/Return-Dragon-King-Maggie-Walsh-ebook/dp/B01N91EXPC
Reviewer: Shorty 
Review: Since his mother took him and fled their home Devon has been in hell. He's been lied to, beaten, used and abused and forced to sell his body at the whim of his step brother Mick. Going to his nightly appointment he meets Zion. He has been having dreams of this man and is stunned when he learns who he is. But upon Zion revealing who he really is Devon runs as he feels ashamed of what he's been forced to do.
Zion is a strong character and was just the one to show Devon that what he went through was because of someone else and not his choice. I have to admit I was so pissed off with the way that lazy no good prick Mick treated Devon that I was wishing him dead from the start. 
The scene between a certain client and Devon broke my heart at what was done to him. I was glad it was not drawn out as I don't think I could have handled that. There are twists and turns especially at the end when we discover the plan and certain individuals who are power hungry set said plans in motion and carried them out. 
Highly recommended.