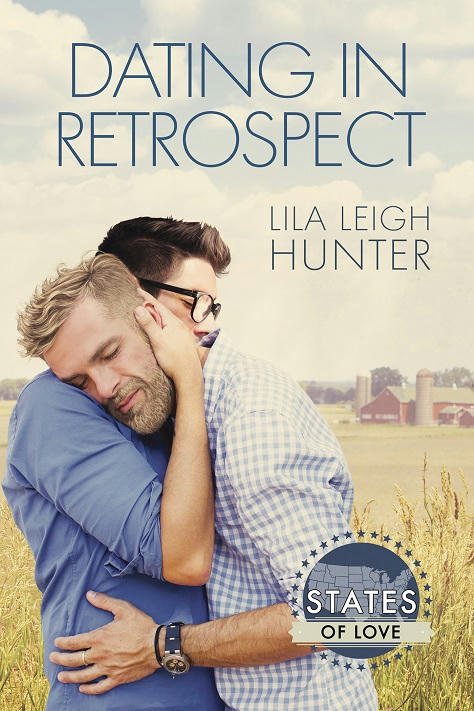 Title: Dating in Retrospect
Series: States of Love 15: Iowa
Author: Lila Leigh Hunter
Genre: Contemporary
Length: Novella (107 pages)
Publisher: Dreamspinner Press (15 Feb 2017)
Heat Level: Moderate
Heart Rating: ♥♥♥♥♥ 5 Hearts
Blurb: Giving the commencement speech at his alma mater doesn't fit Clay Keller's meticulous schedule. As Chief Executive Officer of Travel Mogul—the largest travel connoisseur company on the West Coast—he has no time to get back in touch with his country roots. He left fifteen years ago without a second look, but a medical scare makes him change his mind about the speech and brings him face-to-face with his only regret.
Time always moves slower in Southeastern Iowa, and Aaron Grant loves it. He's added solar farms to the Grant Lanes portfolio and has been teaching at the local university for a decade. The last thing he needs is to have his tenure application compromised by the return of his ex-boyfriend. If he had known who the commencement speaker would be, he would never have volunteered to be the administration liaison.
A proposal—to date for a year—will help them discover that time changes a person, even when everything else stays the same.
ISBN: 978-1-63533-305-3
Product Link: https://www.dreamspinnerpress.com/books/dating-in-retrospect-by-lila-leigh-hunter-8137-b
Reviewer:  Prime
Review: Dating in Retrospect is a completely charming tale of two men that were together as young men, only to be split apart by time (and the usual miscommunication and asshole moves by one or both of the men). Now Clay Keller has a way to fix things with the one person that he has loved, Aaron Grant. Clay left after college for the big city, where he knew that his chance to find the perfect job would be. Unlike Clay, Grant stayed in their small Iowa town hometown where he teaches at the local college (he has a PhD) and works on the family farm.
It all starts when Clay accepts to give the speech at graduation at his alma mater, where he is literally thrown together with his ex. Clay sees his opportunity and takes it – he proposes to date Aaron for a year. He is certain that they should be together, whereas Aaron is much more skeptical. It's a really simple set up. As the story moves along we learn things about the men when they were younger, as well as finding out about the men that they have grown into.
In essence, this novel is the novel of Clay's redemption. He's a guy who has it all, except for the love of his life. Let's face it; it was his selfishness that ended the relationship years back when he moved to LA. When Aaron made the only decision he could – stay in Iowa to help his dad with the farm – Clay ignored Aaron's efforts to keep in contact. He really needed to grow up and face up to his mistakes. Whereas Aaron is the good son, the one who stayed behind and found his maturity years ahead of the man he loves.